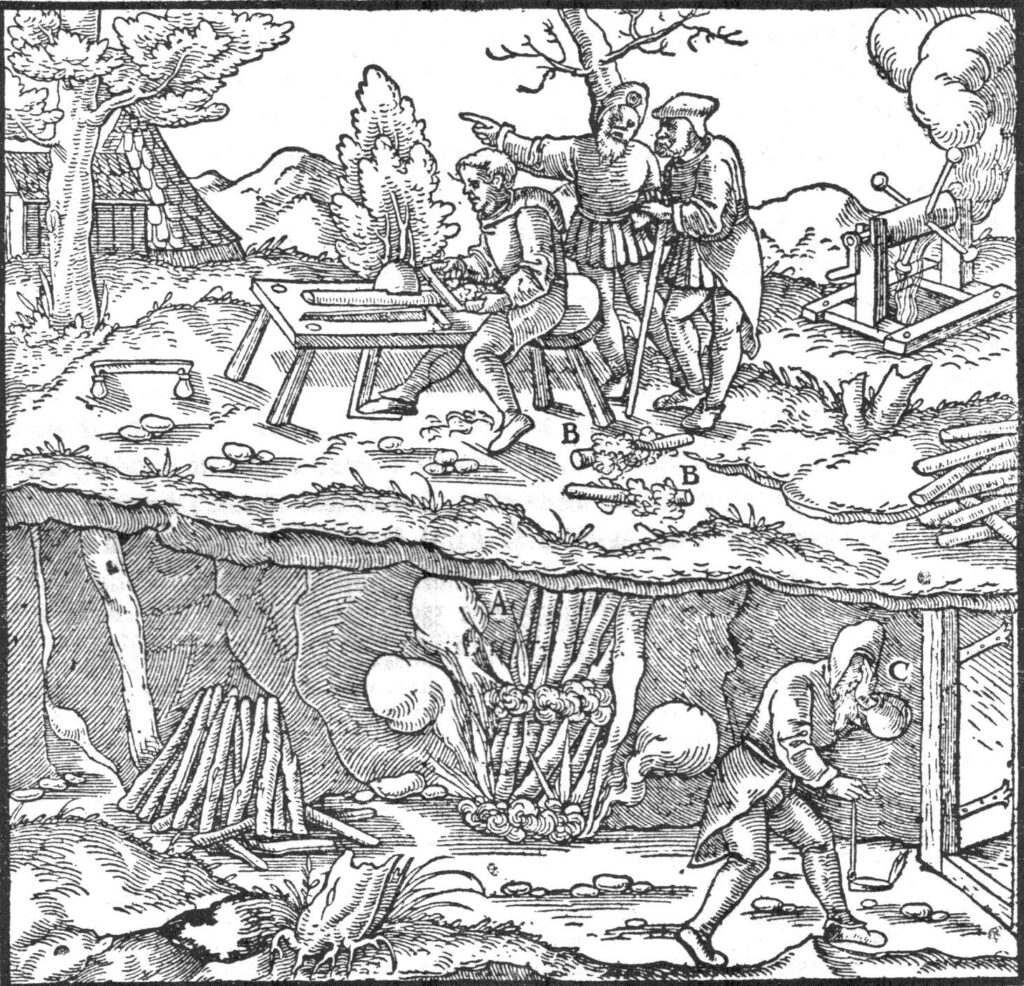 De re Metallica is a book, originally written in Latin, detailing the state of the art of mining, refining, and smelting metals. It was published in 1556. The book is filled with numerous delightful woodcuts, illustrating the state of the art of the time. The author was Georg Bauer, whose pen name was Latinized to Georgius Agricola. In 1912, the first English translation of De Re Metallica was published. The translators were Herbert Hoover, a mining engineer (and later President of the United States), and his wife, Lou Henry Hoover, a geologist and Latinist. That's the version of the book that I have. But a modern reprint.
Do you know how many times the book uses the word "tailings"?
I have no idea.
I didn't read the book. I only looked at the illustrations. But, based on that assessment, I believe the word "tailings" appears in the book approximately zero times.
A few years ago, at the SME annual conference in Denver (it was probably about 2017) I ran into a friend who was presenting a talk that pertained to tailings. I am pretty sure that his was the sole talk at that conference that pertained to tailings. Out of hundreds of talks, only one pertained to tailings.
Such was the way the world functioned in those days. Or, I should say, such was the way of the world outside of Canada. The Canadians had been shaken to their core by the failure of the Mount Polley TSF in 2014. Prior to that the Canadians had been feeling some sense of comfort, as most of the manuals, instructions and best practice documents being used throughout the world were being authored by the Canadians. How could such a tragedy happen in their own backyard when they were in the forefront from writing these guides?
The Canadians had been awakened, but the rest of the world laid mostly dormant. Of course, I'm not speaking of tailings practitioners. We've understood the importance of responsible tailings management since before I came into the industry. I know that the late Prof. Geoff Blight was authoring modern papers about tailings in the 1970s.
The rest world was shaken from slumber by the pair of TSF failures in Brazil. Our industry is now under a global microscope. The industry is responding, including the publication of the Global Industry Standard on Tailings Management, and the documents that are associated with that Standard. And also the relatively new Tailings Management Handbook: A Life-Cycle Approach.
Yes, I know we have lots of conferences dedicated to tailings. Those are incredibly valuable and important to the industry. But I'm really happy to say that the SME annual conference now has a useful balance of tailings talks mixed into the event. That means that the overall industry is appreciating the importance of adequate tailings management.
As my friend Clark says, "Good on ya".